Lack of information 'risks alienating' even those who back green measures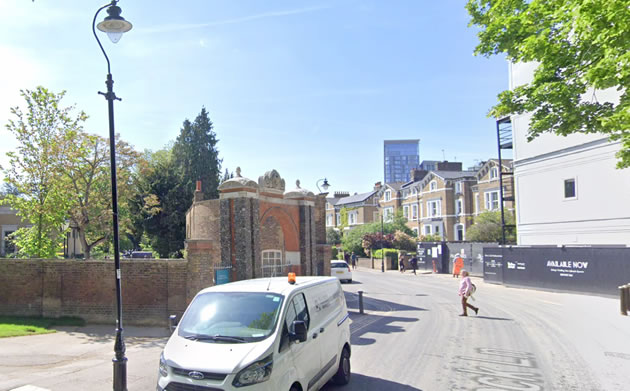 Access to be restricted for motor vehicles to Mattock Lane. Picture: Google Streetview
Ealing Council has been warned it risks alienating residents who support green travel measures due to the way Low Traffic Neighbourhoods (LTNs) have been drawn up across the borough.
According to council leader Julian Bell the authority has been granted £700,000 so far to implement traffic-calming measures in the borough. The council has previously announced that nine were to be implemented but the scheme planned for the Loveday Road area scheme was scrapped when it was discovered that significant roadworks were due to take place in the area by utility companies.
The initiative comes amidst plans to encourage active travel by walking or cycling as public transport capacity is expected to reduce by up to 15 or 20 per cent compared to pre-pandemic levels.
Cllr Bell told members of the Overview and Scrutiny Committee that if the 80 per cent of journeys that would previously be made on public transport were now to be made in cars it would "gridlock the borough" and residents would "choke on the fumes".
"What we don't want to do is replace one respiratory crisis with another one, and that is of poor air quality," he said.
"If it [LTNs] is an unmitigated disaster we can pull the plug in six months. My view is that it won't be the case, they will stop rat-running, they will allow every person to get to their home and every emergency vehicle to get to people's homes but it will stop people from using residential streets as through traffic.
"I think it's important for us to put these things into place, we will be listening, we will be looking at everything people will be feeding back to us."
LTN measures include bollards, speed humps, double-yellow lines, cycle parking and 20mph speed limits, but councillors pressed for the specific maps and plans to be available for residents on the website, which is not currently the case.
The notification period for residents is also just seven days.
Cllr Paul Conlan warned residents could perceive the lack of information as "conspiratorial", adding: "At the moment there's no information at all about these schemes on the website, we really need a lot of what Julian's explained on the web as soon as possible.
"When we don't have final plans for the scheme then it should just say the plans for these are still being worked upon."
And Cllr Jon Ball added, "What is a really good idea is being undermined by some of the specifics in the schemes which are upsetting a lot of people."
In an announcement from the council on June 26, it confirmed work is already underway across the borough on projects to aid social distancing and improve cycling infrastructure including at Himalaya Palace Shopping Centre and King Street in Southall, the Hanwell post office on the Uxbridge Road, Boston Road in Hanwell, Ealing Road in Northolt, and around Ealing Broadway.
Councillor Linda Burke weighed in: "I'm really struggling with this one, I've been sent quite a lot of complaints about it.
"The big issue people are complaining about is where they just give one alternative route through and it's almost like we've ignored the invention of satnavs.
"When you've got one route I think it's completely illogical to say it'll reduce traffic, all it will do is divert traffic. I think it will alienate a whole bunch of people who are really positive about these suggestions."
Cllr Bell explained to be eligible for government funding the council had to come up with "bold proposals", and accepted the seven-day notification period for residents was "not very long".
"That may not provide sufficient time to get full feedback but what we are saying is these are genuinely temporary measures caused by the emergency and if there was a real problem we wouldn't' necessarily wait for the whole six months," he said.
"On the other hand you've got to give these things a sufficient time to bed in.
"We've got to hold our nerve on this."
We have obtained details of more Low Traffic Neighbourhoods (LTNs) planned in the borough.
The Mattock Lane scheme (LTN 35) proposes a that concrete blocks be placed at the eastern end by Pitzhanger Gallery with pedestrian and cycle access only. A sign showing that there is no through road will be placed at the Culmington Road end.

Mattock Lane scheme (LTN 35)
A range of measures which are believed to be access restrictions are being proposed in the area south of the Broadway at the following junctions
St George's Road, south of Uxbridge Road
Grosvenor Road/Oaklands Road
Coldershaw Road/Leighton Road
Burns Road, south of Leighton Road
Leighton Road between Seaford Road and Northfields Avenue
Midhurst Road/Hessel Road
Erlesmere Gardens/Salisbury Road
Mayfield Avenue/Midhurst Road
Haslemere Avenue, west of Midhurst Road
In addition there is a one way system proposed on Oaklands Road near Oaklands Primary School with temporary footway widening outside the school entrance.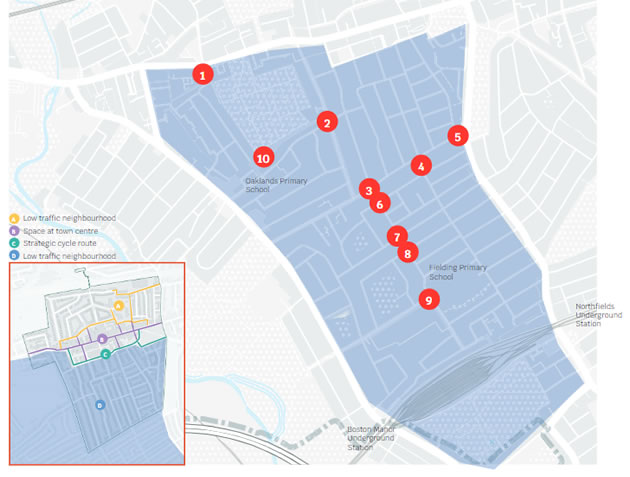 South of the Broadway neighbourhood scheme
The Low Traffic Neighbourhood scheme for North of the Broadway proposes access restrictions (or filtered permeability) at the junction of Endsleigh Road and Felix Road, Green Man Lane between Singapore Road and Witham Road and at the junction of Kirchen and Lancing Road. It is also proposed to create a school street with temporary timed closures on Green Man Lane north of the Singapore Road junction.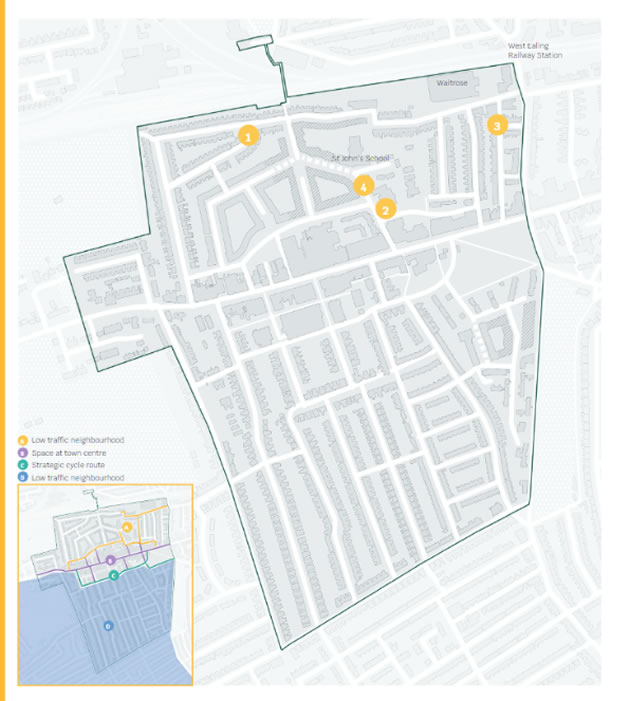 North of the Broadway neighbourhood scheme
The council say that the schemes will reduce rat-running in residential areas of the borough and encourage more walking and cycling. Some residents say they will increase the amount of traffic in their roads and liken some of the schemes to Hampton Court Maze.
Written with contributions from Anahita Hossein-Pour - Local Democracy Reporter
July 21, 2020