Council abandons plan due to major utility works taking place in the area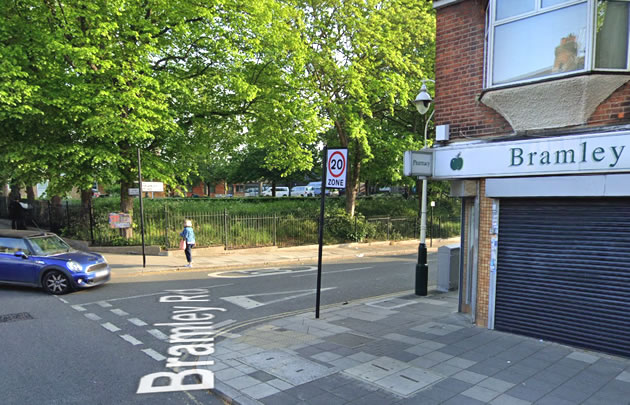 Bramley Road, South Ealing. Picture: Google Streetview
One of the nine Low Traffic Neighbourhoods (LTNs) planned for the Ealing area has been scrapped.
The scheme around the Bramley Road area in South Ealing is no longer going to proceed with the council saying that major utility works planned for the area would delay the implementation beyond the timescale for the award of funding.
Local MP Rupa Huq had commented after seeing the video of a tree falling down in South Ealing that it, "makes this proposed madcap scheme that will gridlock the hood and cause mayhem for emergency vehicles even more ludicrous."
280 residents of roads in the area including Trent Avenue, Windermere Road, Devonshire Road, Overdale Road, Dorset Road, Derwent Road and Weymouth Road signed a petition against the scheme.
The page supporting the petition states, "The proposed plan is impractical and counterproductive to the LTN objectives. Should the proposed plan be submitted and accepted in its current form, it would force the road traffic from the existing 400+ residential units affected, through one single-lane residential street. The proposed plan is counterproductive to LTN objectives as it will increase the traffic along the route at least threefold (more than negating the anticipated 15% reduction from such a scheme). Furthermore, the traffic will not be able to flow bi-directionally as the route is too narrow. The cause is likely to be significant congestion which will increase engine idling and fuel consumption thereby delivering a negative impact on the quality of air which is already exceptionally poor."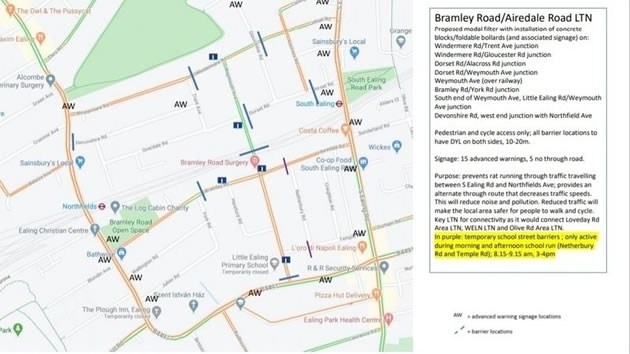 Map showing the now abandoned scheme
A counter proposal was made in which the barrier at Devonshire Road and then repositioning other barriers so that Trent Avenue is not turned into the rat run between West to East that it was claimed the proposed scheme would create.
Chris Cole, Transport Planning Service Manager said in an email to a local councillor, " We are very aware of the significant backlash we received over this proposal, so this may come as some relief to you. It will be interesting, however, to see what the impact of the works will have, as it will cause some restrictions to movement, so we will monitor them closely."
Cllr David Millican, who represents Northfield ward said he was checking whether the scrapping of the Bramley Road scheme would have any impact on the separate scheme by Little Ealing Primary School entrance in which the roads would be temporarily closed during the school start and finish times.
At this stage there is no indication when the LTNs will be implemented. If you have a copy of a map of an LTN in your area please forward it to editor@ealingtoday.co.uk.

July 13, 2020