Save Ealing's Centre believe developer's amendments a backward step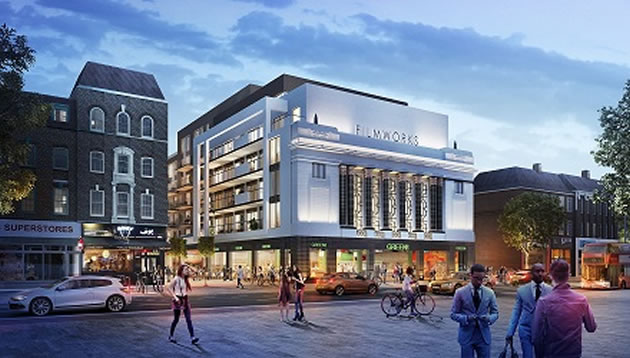 Save Ealing's Centre (SEC) is conducting a short survey on changes proposed by the developer to the planning consent already granted for the Ealing Filmworks site.
Although these are described as 'minor amendments' by St George, SEC say that they have been contacted by a number of people expressing concern over various aspects of the changes the developer wants and have been urged to object.
Will French, Chair of SEC said, "SEC shares some of these concerns. We know several other local groups do too. However, SEC is also aware of the Council's desire to see a new cinema open on the site ASAP and its belief there is an overwhelming public demand for it. Whatever our reservations, if the public support for an early start really is so strong, we would not want to interfere with progress. "
"We have therefore decided to seek local views about the changes by asking people to complete this short survey. We plan to run the survey for the next two weeks and will reply formally to the public consultation once we have analysed the responses."
St George say the changes won't affect the 2019 deadline for delivery of the cinema but the SEC say that there are quite substantial changes that will increase the height and bulk of the development and the number of flats. The key changes to the plans approved in 2015 are an increase in the building height of 15%, a 30% increase in the number of flats but with a smaller rise in the number of affordable flats, a 30% reduction in retail space. In addition the buildings on Mattock Lane are to be entirely residential with what the SEC describe as their bulky 'dead' frontages facing Ealing Green. The changes also do nothing to address the concerns SEC expressed about the original proposal.
The SEC believe that if they get a sufficiently strong response to their survey it will give any objections they make greater force.
As well as completing the survey you can send your comments on the plans to Ealing Planning Department:
By email to planning@ealing.gov.uk. Cite the reference number 172789VAR.
On The Ealing Planning Website . Click on the comments tab to make
your objections and fill in your details.
By post to Simon Truong, Case Officer, Planning Services, London Borough of Ealing, Perceval House, 14-16 Uxbridge Road, London W5 2HL

June 22, 2017