But it will be sometime yet before we can buy our movie tickets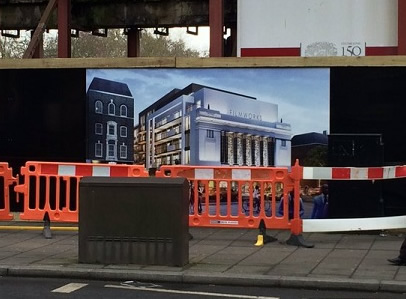 ( as tweeted by @MadCornishProj)
There was a flurry of excitement in Ealing yesterday as it appeared something was happening at the site of the derelict cinema.
Speculation mounted that work could actually be starting on the neglected site which has been the focus of a long running battle.
The former UGC closed to the public in September 2008 and was demolished in February 2009 (apart from the frontage). Empire originally had plans for a 16 screen cinema but building work never started and a legal battle with the council commenced.
Eight years on and it's still just a facade held up by scaffolding.
Last year the Secretary of State approved Ealing Council's application for a Compulsory Purchase Order of the site - making way for total redevelopment of the area. The chosen developer, Land Securities, plan for the 'Ealing Filmworks' site includes 161 flats, shops, restaurants as well as an eight screen cinema.
Yesterday new hoardings were put up showing artist images of what the site could look like.
There was much discussion as to what it meant, with many hopeful that it was a good sign.
Alas, don't buy your popcorn just yet, Ealing's cinema won't be opening imminently.
An Ealing Council spokesperson told us, ''Hoardings are being put up to show the proposed Filmworks development on the cinema site. This is ahead of construction work on the development which is due to start later this year. Ealing Council and developer Land Securities recently acquired the former cinema site following confirmation of the CPO. Negotiations are continuing with the owners of the remaining sites needed for the new development.''
10 March 2016