Almost unanimous vote to consider 'buffer zone' outside Mattock Lane clinic
Ealing Council voted overwhelmingly this Tuesday night (10 October) to take action over the continued 'vigils' outside the Marie Stopes Clinic in Mattock Lane which residents say have become aggressive and intimidating.
Outside the council house; around 150 people (75% Pro-Choice) – Inside it was packed to the rafters too. Several TV crews, were in the chamber. "Are you lot journos?" asked one councillor (who shall remain nameless) "You weren't here when we were debating wheelie bins".
A group called Sister Supporter – founded by residents in November 2015 – had been campaigning for the council to impose a PSPO (Public Spaces Protection Order) outside the clinic. There have been protests there for over two decades but several people – including John Hansen-Brevetti, clinical operations manager at the Ealing centre, said they had been getting more aggressive until they were "a blight on the community"
Sister Supporter had compiled a very professional 20-page information pack which was distributed to all councillors. The pack had background information, photographic and video transcripts and images, residents' statements and examples of leaflets given out to the clinic's users.
Council leader, Cllr Julian Bell threw his support behind the campaign stressing that the overall message was one of caution. The issue might be solved with a PSPO – but other methods will be considered too – like a byelaw. Ealing is the first Council to debate this – and, as Cllr Bell said – a lot of other councils are watching.
For the first time I have ever seen – the chair called out each councillor's name to get their vote. Have to confess I couldn't see well enough to do a head count but it had to be 50+ and it was overwhelmingly in favour – bar 2 abstentions.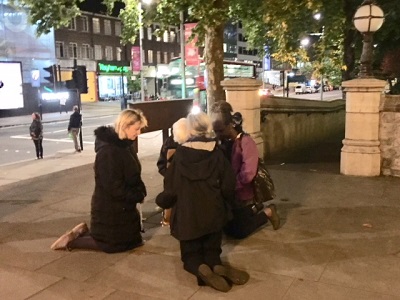 Outside where most of the campaigners had remained – there not being enough room inside – the jubilant cheers went up as the news flittered down.
Though as I walked along to get to the bus stop – a group of four Pro-Life women knelt praying. "We won't give up".
Viv Ellis
11 October 2017