Mostly praise but vigil group condemns possible order as 'suppression of free speech'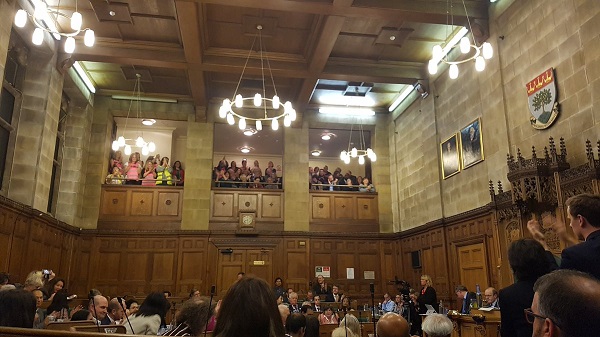 There has been widescale praise for Ealing Council's decision to consider imposing a 'buffer zone' around the Mattock Lane abortion clinic.
Councillors voted overwhelmingly in favour of taking action to prevent vigils outside the clinic last night - with just 2 abstensions, Conservative Councillors Alex Stafford and Cllr Joanna Dabrowska. We have asked them for their reasons.
Sister Supporter - the group that brought the petition to council - tweeted:
''Tonight Sister Supporter & Ealing made history! Thank you to all the Councillors for your incredible display of support! '' #EalingMakeHistory
A statement from the British Pregnancy Advisory Service (BPAS) welcomed Ealing's action and urges other authorities to follow suit:
"While today's vote is undoubtedly a significant step forward for women and residents in Ealing, anti-abortion protests are a national problem in need of a national solution. The situation in Ealing is sadly not unique, and women and clinic staff across the country report being followed, filmed, and harassed when trying to access or provide legal healthcare services. This has to stop.
"A number of other countries have introduced buffer zones around clinics in which anti-abortion activity cannot take place. Women in the UK deserve exactly the same level of protection. We urge the government to follow the example set by Ealing Council, take responsibility for the safety and wellbeing of women seeking abortion care, and put forward legislation to introduce buffer zones as a matter of urgency."

(John Hansen-Brevetti from Marie Stopes clinic)
Meanwhile clinical director for Marie Stopes (who run the Mattock Lane clinic) attended the meeting and Richard Bentley, Managing Director sent this statement:
"This ground-breaking move by Ealing Council sets a national precedent for ending the harassment of women using legal healthcare services. We hope that other local authorities will follow this example and act to increase protection for women in their area.
"For too long, these groups have used the word protest to mask their real objectives, which are to harass women they don't know, invade their space and block their right to healthcare. If they were serious about protesting abortion law, they would be standing on Whitehall where the laws are made. We respect and support the right to free speech, but it absolutely does not give strangers a free pass to bully and intimidate women.
"The majority of women who arrive at our clinics have already had a consultation with a trained professional in which they have talked through their options and have come to a decision that's right for them. Strangers harassing them as they enter and leave the clinic does nothing to change that. All it does is upset women on what can already be a difficult day.
"We are grateful to Ealing Council for recognising this and taking action, and to Sister Supporter and Rupa Huq MP for their campaign."
However Clare McCullough, the Good Counsel Network's founder, one of the groups that hold the vigils told the BBC that group had never faced ''any criminal charges" and regarding a possible Public Spaces Protection Order (PSPO) said:

"Most lawyers would agree those orders were not put in place for this kind of issue."They're not there to suppress freedom of speech.
"I think it would be a grave misuse and would have implications for all kinds of groups who are protesting all kinds of things."
11th 0ctober 2017''