Judges describe the work of their project team as outstanding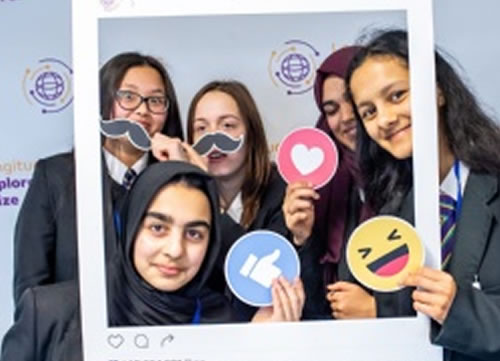 The Greenford School project team
A team of Year 10 and 11 Greenford High School students have won the Nesta Longitude Explorer Prize. This will mean that the school gets an extra £25,000 of funding.
The competition is an opportunity for Computer Science students to develop AI-based solutions to improve the lives of others. The Greenford team, competing as Team Iscort, was made up of Lilia and Kathryn from Year 11 and Eeman, Sophie and Basira from Year 10. They won with TOMODACHI – an app that transforms a smartwatch into a smart assistant.
The TOMODACHI app is designed to benefit elderly people suffering from memory loss while also alleviating the pressure on their carers and bridging the gap between them and their loved ones. TOMODACHI, which means 'friend' in Japanese, uses innovative AI and machine learning to offer personal assistance to users. This is the video pitch that helped secure the top prize:
TOMODACHI was chosen as the winner as the judges thought that the standard of research and detail put into the idea was extremely high, describing the work the team put into it as "outstanding". They added: "Their teamwork was clear and showed how it was an issue close to the team's heart."
Greenford High School Headteacher Mia Pye said, "This is an absolutely amazing achievement – just brilliant. I am so thrilled for our all-female team and for our superb Computer Science department.
"A special thank you to Ms Rao who has led the team with incredible commitment throughout."
Computer Science teacher Ms Rao added: "I am extremely proud of the girls and their achievement. This is the result of their passion, focus, hard work and resilience!"

July 23, 2020