Local schools continue to cope well under new grading system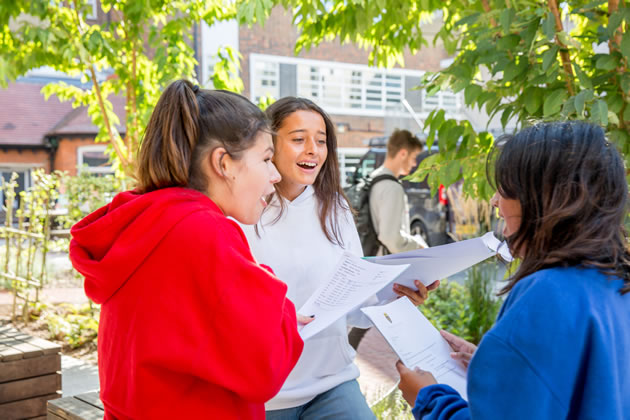 St Benedict's students with their GCSE results
With results for this year's GCSEs coming in thick and fast, the early indications are that local students have, once again performed exceptionally well
Students at St Benedict's are once again celebrating excellent results, with 58% of all GCSE exams awarded grades 9 to 7, the equivalent of A*-A, and 37% at grades 9-8.
Nine pupils achieved all grade 8s and 9s (straight A*) - James Bignell, Ned Gatacre, Aran Husni, Oscar Jones, Stephanie Maalouf, Milly McCosker, Louis Pyne, Emily Rawlings and Zoe Ziprin.
Almost a quarter of the year group achieved straight 9 - 7 grades, or A*-A.
A number of academic departments at St Benedict's have seen outstanding GCSE results this year: top grades of 9 -7 were awarded to 91% of candidates in French, 83% in History, 69% in Computer Science and 67% in Art and Design.
The Headmaster, Andrew Johnson, said: "I am delighted that our students have once again achieved such excellent results. Congratulations to them and to their teachers, who have supported them so well."
At St Augustine's Priory outstanding results have been achieved in this year's GCSE results with 100% of pupils achieving at least one grade 9, 8 or 7 and 21% of all grades were the top grade, 9.
At a time when the emphasis is on STEM subjects, results from St Augustine's Priory show that their results are excellent across the board with 98% of Triple Science results (Biology, Chemistry & Physics IGCSE) grades at 9, 8 or 7, while 93% of Modern Languages (French, Russian & Spanish) grades were 9, 8 or 7 and 83% of all entries in Art, Drama and Music were grades 9, 8 or 7.
Coupled with this, 83% of Religious Studies grades were 9, 8 or 7. This rigorous examination tests academic acumen and develops sophisticated qualities of ethical debate.
In all, 86% of pupils achieved at least one grade 9 or 8 and 22% of the year group scored grades 9, 8 or 7 in all their subjects.
are moving from strength to strength, celebrating another year of outstanding GCSE results, cementing its position as a leading independent college in West London.
87% of Ealing Independent College's GCSE students this year obtained at least grade 4 and above. There were some exceptional individual student performances such as Riten, who achieved two Grade 9s in Physics and Biology, alongside two Grade 8s in Chemistry and Mathematics.
In addition, the value which the College says it has added to the results of students who enrolled in the College to improve their existing grades from previous schools has been very pleasing this year, with some students enjoying substantial grade enhancement in the subjects which they have retaken, enabling them to move towards A Level courses. One of those students is Albert, who achieved 4 grade enhancements in Maths, English, English Literature and History.
Principal Dr Ian Moores commented, "I am very pleased with the achievements of the GCSE cohort. The GCSE results are again fantastic this year. I am particularly delighted to see our Year 11 cohort performing tremendously well. They are a delightful group who worked conscientiously throughout the year and they have been rewarded with wonderful grades.
Greenford High School students and staff are also celebrating yet another set of outstanding GCSE results.
Highlights include 82% of students achieving grades 9-4 in both English and Maths while almost three quarters gained grades 9-5 in English and Maths. A third of all grades were at the top grades of 7 or above.
Overall, initial progress measures show that Greenford students have achieved more than two thirds of a grade higher than students nationally. Such results are likely to once again position Greenford in the top 5% of schools across the country.
Top achievers in Year 11 include Jay Kanda, who achieved an incredible eleven grade 9s, and Sarah Qureshi who secured seven grade 9s and three grade 8s.

Jay Kanda of Greenford High School
Headteacher Mathew Cramer, who retired in July after 25 years at Greenford, congratulated students on their hard work: "I am delighted that our students have achieved such excellent results once again and wish them all the very best for the future."
Mr Cramer will be succeeded by Mrs Mia Pye, who was equally delighted: "It is no surprise to me that the students at Greenford High have achieved such superb results once again. This is a wonderful school and I am thrilled to be taking up the post of Headteacher from September. I look forward to building on the huge success of Mr Cramer over the last decade."
Results from other local schools will be published here as we receive them.
Data published by the Joint Council for Qualifications shows 20.8% of UK GCSE entries scored one of the three top grades this year which is up from 20.5% last year and 67.3% of entries scored a C/4 or above
August 23, 2019