Litter pickers fill 70 sacks with waste after discovery beside Kensington Bridge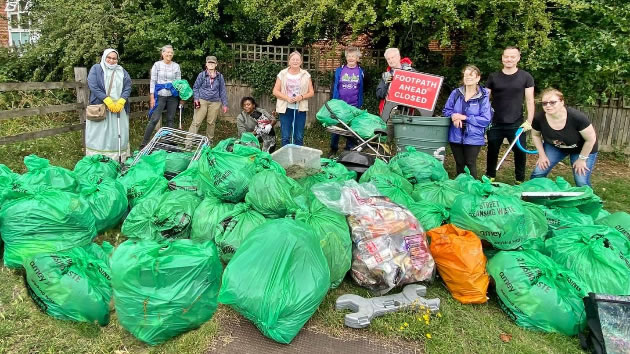 LAGER Can members with the rubbish they collected. Picture: Mark Percy
A group of volunteer litter pickers have discovered what appears to be a large hidden rubbish tip near the canal in Northolt.
They were taking part in a towpath clean-up which netted 70 sackfuls of rubbish in a single weekend.
Volunteer Mark Percy said: "As we gathered on the Kensington Road bridge, I noticed some bottles and cans on the embankment below. When we went down to collect them, we found a huge tip partly buried under bushes and brambles.
"There was tonnes of disgusting detritus which had accumulated where people had shamelessly chucked rubbish off the bridge."
Working their way along the canal towpath, Margaret Smith's 11-strong team from litter action group LAGER Can and the Ealing Wildlife Group recovered massive quantities of cans and bottles, remains of homeless encampments, an inflatable pool, a pram, a road sign, a rain butt, a dustbin, two vacuum cleaners and a giant spanner.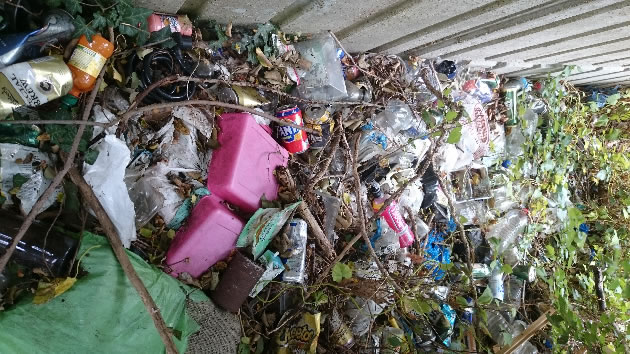 With 470 members, LAGER Can has seen a 40 per cent surge in residents joining its Facebook group in recent weeks, reflecting public anger over an explosion in littering during the lockdown.
A huge operation at Warren Farm over successive weekends produced 275 bags of rubbish. "It was a great team effort," said organiser Cathy Swift.

Rubbish not collected is targeted by foxes
But an issue for the army of volunteers helping to clean parks is what they say is Ealing Council's inability to arrange prompt collections of rubbish sacks which are then ripped open by foxes, causing even more mess.
Litter picker Mark Botsford, who covers Pitshanger Park, said: "If people at the top can't get it together, how can they expect others to continue with their support without resentment when all the hard work of our volunteers is just thrown all over the floor?"

July 8, 2020