EHM Legacy company providing free water for all park users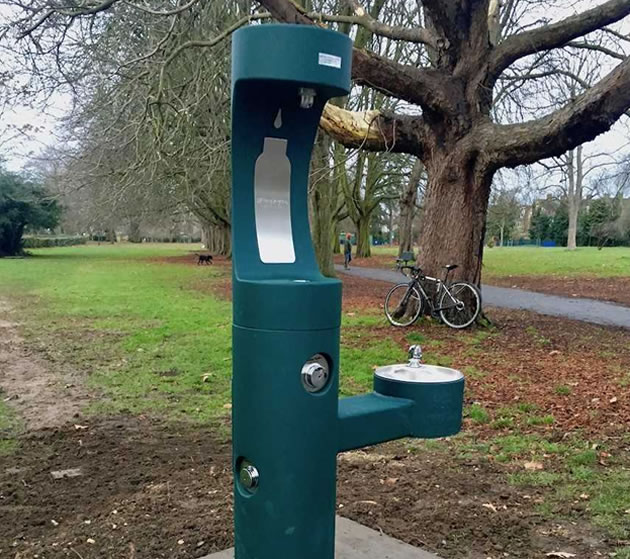 A new state-of-art drinking fountain has been installed in Lammas Park thanks to funds provided by the Ealing Half Marathon Legacy Community Interest Company (EHM Legacy). The fountain will be available for use by all visitors to the park.
The not-for-profit organisation is the community arm of the Ealing Half Marathon and has chosen Lammas Park for the location of a drinking fountain to help support and encourage physical activity in one of Ealing's most loved parks.
Lammas Park has football and tennis pitches, a children's play area and an outdoor gym facility but there was no access to drinking water. The park is also a popular location for runners and dog walkers.
The drinking fountain is a dual-bottle filling station and is extremely durable making it both and vandal and weather proof. It has a traditional 'bubbler tap' as well as a bottle filling tap, so can be used with or without a bottle. It also has a floor level pet fountain, perfect for dogs.
The fountain will also help reduce the use of plastic and the consumption of sugary drinks, especially by children. The Thirsty Play Report, commissioned by the Children's Food Campaign, stated that 92% of those they surveyed said that they would prefer children to quench their thirst for free at the park, rather than pay for bottled drinks.
The drinking fountain will be located at the Culmington Road end of the park, directly next to the start of the monthly Ealing Mile, an event funded and delivered by EHM Legacy. The Ealing Mile takes place at lunchtime on the first Friday of each month and is attended by both runners and walkers.
Celebrations for the 100th Mile event will take place on Friday 1 February 2019. In addition, Lammas Park is also the venue for the start and finish of the multi award-winning Ealing Half Marathon, which is now in its seventh year.
Kelvin Walker, Director, EHM Legacy and Founder of Ealing Half Marathon said, "At the moment, if anyone in Lammas Park is thirsty, they have to leave the park and walk to a shop or café and buy a drink, probably in a plastic container and possibly an unhealthy sugary beverage. Soon, they will be able to refill their own bottle or grab a quick drink of free and healthy water".
Councillor Bassam Mahfouz, the council's cabinet member for finance and leisure, said, "As a keen runner myself, and also a dad with kids who like playing in our parks, I know how priceless it can be to have access to a drink of water. I'm delighted the council's parks service was able to work with EHM Legacy to make this fountain happen. EHM Legacy does a lot of good work within the community to help the borough's campaign for us all to Get Moving and
this is a great addition to help encourage people to use our parks."

January 4, 2019