Ealing Broadway, Acton Mainline, Southall and West Ealing now set to open in 2021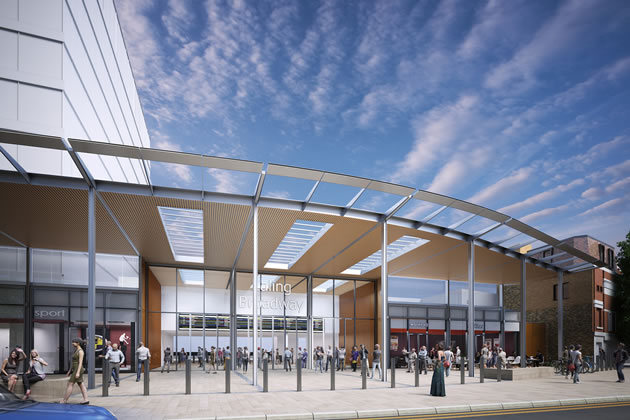 CGI of the station planned at Ealing Broadway. Picture: Crossrail
The completion of stations currently being upgraded in West London as part of the Crossrail project is to be delayed further.
Crossrail Ltd confirmed this week that works to Ealing Broadway, Acton Mainline, West Ealing and Southall will be pushed into next year due to the impact of the pandemic.
The company's CEO Mark Wild told the London Assembly in a monthly report, said that despite recent progress at Ealing Broadway and Hayes & Harlington on the western section of the line, the Covid-19 outbreak had caused further delays . He added, "As a result of the temporary pause of Network Rail works due to Covid-19, it is likely that these enhanced stations, along with llford, Southall, Acton Main Line and West Ealing, will be completed as soon as possible in 2021."
Recently Crossrail gave an update on the progress of work at the stations. For West Ealing it says most of the work on drainages is complete while the basement flooring and cabling is very close to completion.
The blockwork for Ealing Broadway's upgrade is 90% complete with the glazing, cladding and curtain wall not far behind.
At Acton Main Line station, it has finished the mechanical and electrical pipework and ducting works along with part of the station building ceiling.
In July of this year a shortfall in Network Rail's budget of £140 million to upgrade the stations for Crossrail was revealed. The total bill for the work on the stations now stands at £3billion, £700 million over the original budget set back in 2012.
A Network Rail spokesperson said, "To address earlier challenges in the project we have retendered some significant parts of the work and this has increased the timescale and overall cost. This has been done with no additional government funding as it is being covered by Network Rail's own internal budgets.
"More recently we temporarily paused our station upgrade work as part of the Crossrail 'Safe Stop' in light of the Covid-19 pandemic. The impact of this on the timescale and cost is still being assessed but work to complete the enhanced ticket halls and accessibility improvements has now restarted."
Mr Wild commented, "Completing the outstanding works and commencing intensive operational testing in early 2021 remain our top priorities. We will continue to work tirelessly to finish this railway as soon as possible and ensure the smooth transition to TfL."

October 7, 2020