The online supermarket that delivers in minutes (Ad)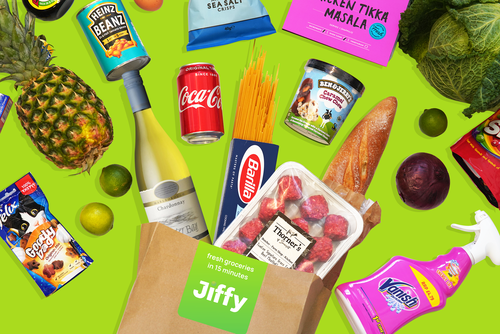 We're entering a new shopping age - one where you don't need to change out of your pyjamas to instantly get all the great supermarket products you love, at the same prices you're used to, with the click of an app.
Jiffy, the brand-new online supermarket in London, is helping to deliver just that – and they've now launched in Ealing, Acton, and Park Royal.
Delivering just 15 minutes after you make an order, you can get fresh ingredients, frozen groceries, cupboard essentials, toiletries and cleaning supplies, plus drinks, snacks and treats brought to you in a jiffy.
No matter if you're missing one crucial ingredient from tonight's recipe, getting in your weekly shop, or just running low on teabags, you can make orders big and small from the app.
Unlike the big supermarkets, you don't need a delivery slot and there's no minimum order – just whatever you need, delivered right away.
Whether you're looking for your favourite brands or up for trying something new, Jiffy has products from Jamie Oliver and Linda McCartney to Pringles and Pampers, all at the click of a button.
They're even doing their bit for the local community by using e-bikes and eco-friendly packaging to reduce air pollution and donating to local charities to reduce food waste.
Give Jiffy a try today and save 50% on your shopping with EALING10 – you'll get £10 off any order over £20. Download the app in a click, pick what you want, apply the code at checkout, and relax - your order will be there in a jiffy. Every new customer also gets free delivery for 30 days.
June 16, 2021

Advertorial