Dickens Yard restaurant could face permanent closure if no bidder found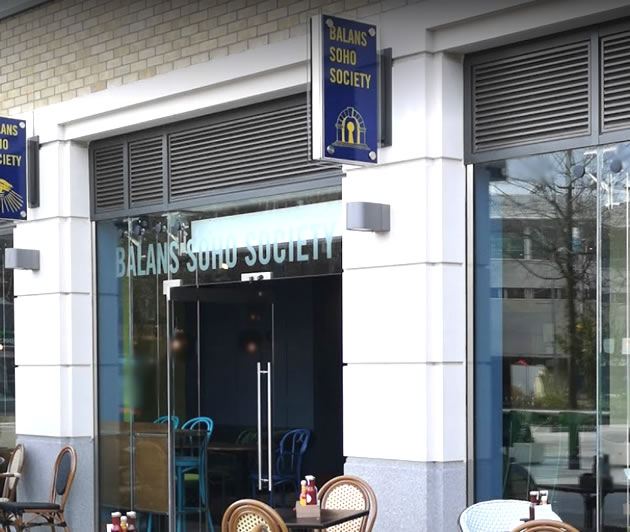 The owners of Balans Soho Society have put their chain of restaurants on the market including the Ealing branch according to reports in the industry press.
The Caterer magazine have said that CDG Leisure have been appointed to sell all the leases, fixtures and fittings of the group's seven sites including the original venue in Old Compton Street Soho. The report indicates that the Balans name and intellectual property would be retained by the owners which could suggest that there would be a rebranding of the restaurant at any site that was sold.
Balans, which described itself as 'Bohemian, sophisticated and perhaps just a touch eccentric' was started as a sandwich shop in Old Compton Street in 1987 and, as well as the Dickens Yard branch, has outlets in Victoria, Kensington, Westfield London and Westfield Stratford plus a second branch in Soho.
Morris Greenberg managing director of CDG Leisure told The Caterer that bids are invited by close of business this Friday (28 May). The branches have been on offer for two weeks and Mr Greenberg claims there has been a lot of interest.
He is quoted by The Caterer as saying, "I haven't had bids yet but people will be gearing up for that this week. As for the amount, I've got no idea. Pre-Covid these sites would have gone for serious money."
Should no buyer come forward for the lease of the Balans branch in Ealing this would be another blow to Dickens Yard which was seeing poor footfall in its retail space even prior to the lockdown. Balans has been open at the Ealing site since March of last year and was welcomed by a director of St. George as an addition that 'will help put Ealing on the map as a thriving lifestyle location'.
Balans did not respond to a request for comment.
May 28, 2020