Protected species reportedly nesting on land which is due to be built on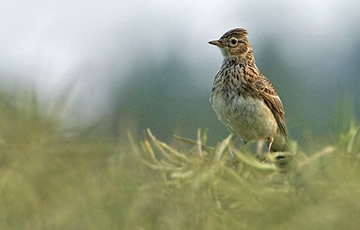 (Image: British Trust for Ornithology)
According to local environmentalists for the third year running Skylarks are nesting on land at Warren Farm - and they want controversial building plans to be halted.

The 61 acre site is being leased to QPR by Ealing Council who have plans for a multi-million pound facility which will allow their first team squad and youth teams to train at the same location. They currently use shared training facilities in Harlington. Since they first raised the idea in 2013 there has been fierce resistance from local residents but a High Court decision last year cleared the way for the project to proceed.
Local residents have been notified about their intention to start construction work to prepare the way for QPR's training ground. This first stage will involve 180,000m3 of soil needing to be brought to the site which the Warren Farm Sports Centre Interest Group says will result in up to 20 HGV movements per hour for up to a year beginning in June. There would be demolition work and initial work is likely to last for up to 6 weeks.
However, fears have been raised that this could destroy the nests of the skylarks which conservationists say would be illegal as the birds are a protected species.

(CGI of planned facility at Warren Farm )
Malcolm Weller from the action group Save Warren Farm has written to Ealing Council, ''This development of course cannot go ahead until the Skylarks have finished nesting in August 2019 at the earliest. Disturbing or destroying Skylark nests is illegal and must be prevented if it is known that here is an intention to do something that will disturb or destroy a Skylark nest.
''Can you please inform the developers that they are not allowed to start works on Warren Farm until after August 2019. Please also alert other departments in Ealing Council including the Legal Department so that no mistakes or errors are possible in the protection of this protected species currently thriving in Ealing Brent River Park.''
An Ealing Council spokesperson said: ''We will be working alongside Queens Park Rangers to undertake detailed ecological work to avoid any harm to protected habitats and species within the site as part of the planning process. A qualified ecologist will check the site in order to highlight active bird nests before works commence.
"Working in line with environmental regulations, we take steps to ensure that work carried out is done so at an appropriate distance of any nests discovered to limit any disturbance."
8 May 2019 ( updated 10th )