Campaigners celebrate victory but council commits to community sports plan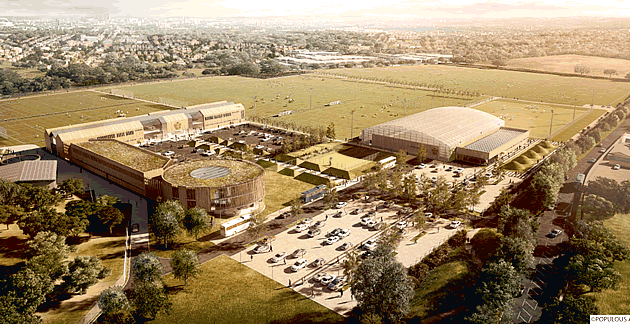 CGI of the planned facility at Warren Farm
Plans to convert Warren Farm in Hanwell into a training ground for QPR with an associated community sports facility have been abandoned after the club decided to use a different site.
QPR say they have invested considerable time and financial resources into Warren Farm but have had to change their approach after an alternative site became available to buy earlier this year.
CEO Lee Hoos said: " We are in advanced discussions regarding the freehold of another site which we decided to pursue when the opportunity to acquire the site came up."
The location of this new site is not being disclosed at this point.
The EFL Championship club says it remains fully committed to working with the council in their ambition to build a community sports facility at the site but it is unclear where the funding for this will now come. Environmental campaigners opposed to development on the nature reserve believe that they have succeeded in blocking the council's plan.
The 61 acre site was to be leased to QPR by Ealing Council and they were planning a multi-million pound facility for their first team squad and youth teams to train at the same location. The total cost was estimated at £30 million. The club currently use shared training facilities in Harlington. As well as providing training facilities for the club, the site was to be used as a community sports facility with 11 grass pitches, three cricket squares and an indoor 3g pitch. QPR's community sports trust was to support activities for young people in the borough and would have covered the operating costs of the facility.
Since they first raised the idea in 2013 there has been fierce resistance from some local residents.
The council says that it will push ahead with their plans for community sports facilities. It is also looking to withdraw from the latest Judicial Review proceedings brought against them by the Save Warren Farm campaign.
Councillor Julian Bell, leader of Ealing Council said, "Warren Farm has always been a playing field and our ambition to develop first class sporting facilities for the borough's young people remains unchanged. We will be looking at how this can be funded once the Covid-19 emergency is over.
"Giving people access to sport and setting good exercise habits will keep people heathier and take the pressure off our NHS in the long run.
"I have spoken to senior QPR officials and they have reassured me of their commitment to continuing to support the scheme. This was great to hear. I'd like to thank the club for their commitment to community sport, we know there is a huge Hoops fan base in the borough and so keeping them involved in the project is a win for everyone."
Lee Hoos said, "In the spirit of the excellent working relationship we have with Ealing Council we have made them aware of the situation and assured them we remain firmly committed to helping them develop the site for community use.
Darren Moore of the Ealing Green Party said on Twitter, "This is what first drew me into politics. Losing our precious green spaces to business to develop and remove from public access and to reduce local nature. It's amazing news to read that the campaigners have won and Warren Farm will remain ours."

Councillor David Millican, representing Northfield Ward said:

"This site is Metropolitan Open Land and always meant to be open for public use and not given away to developers. With the opportunity to go back to drawing board, hopefully the Council will be cognisant of this fact. I know this site extremely well as regularly jog on the field and even more so in the past few weeks as it is so easy to run at a safe distance past walkers and other runners. It is a gorgeous open field enjoyed by walkers, many with their dogs, and by runners."
May 7, 2020