Community group fights to prevent historic building being turned into hotel
Lawyers have been instructed to try and stop Ealing Council turning part of the Town Hall into a luxury hotel.
In July 2016 the council named the preferred bidder for the Town Hall as a company called Mastcraft, who intend to turn part of the grade II listed building building into a 140-bed, boutique hotel with a lease for 245 years.
The Council would remain freeholders and get to keep the east wing with the Council Chamber and marriage rooms, but Victoria Hall and Princes Rooms form part of the deal with the developers.
However, in September that year the Ealing Voice (EV) group successfully appealed for the Town Hall to be listed as an asset of community value -- a building or piece of land whose main use furthers the social wellbeing or interests of the local community.
Following this listing, EV discovered that part of the Town Hall building - the Victoria Hall at the western end of the building - was governed by a charitable trust and according to campaigners could not be sold off by the Council.
This has led to protests by residents and a wide range of local interest groups including Save Ealing Centre, and Campaign For an Ealing Performance & Arts Centre.
The council has now invoked the Localism Act and published a ' Notice of Intended Disposal' stating that they will proceed with a sell-off to a private developer unless a local group or groups come forward to say they intend to launch a bid.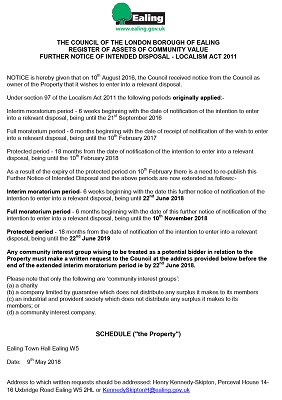 Local community groups have been given a new deadline of 22 June to take action.
Ealing Voice has instructed UK charity lawyers, Bates, Wells & Braithwaite to act on their behalf in an attempt to try and safeguard the future of the trust, and, ultimately the town hall.
Julian Smith from the group says any planned disposal must be halted, ''We don't think that anyone is in a position to bid, nor the council to ask them to, until the questions about the future of the Victoria Hall Trust are resolved by the Charity Commission. Nevertheless as the council has issued a notice we have stated our intention to bid.''
Councillor Julian Bell, Leader of Ealing Council said: "Plans for developing Ealing Town Hall will secure the future of the building at the civic heart of the borough, providing the community with a modern and effective space which retains its beauty and history. Job opportunities will also be provided for local people and the council will retain part of the Town Hall for civic and community use."
"The council is working to secure the best future for our historic town hall as well as providing services in buildings fit for 21st century use. These plans will enable council services to be delivered at a much reduced cost to council tax payers.
"There are a number of separate legal processes involved in this project and it is standard practice to run them in parallel rather than sequentially."
June 13th 2018 (updated 15/06)