Slow Ways is a massive network of walking routes throughout Great Britain

Dan Raven-Ellison
There has never been a better time to walk and thanks to an Ealing man a new project has been created which will get more of us out and about.

It's a massive network of routes connecting towns, cities and thousands of villages throughout Great Britain.
Slow Ways is the brainchild of geographer and explorer Dan Raven-Ellison who made London the first National Park City.
It has developed throughout the various lockdowns with the help of hundreds of volunteers who have plotted thousands of previously unmapped routes throughout Great Britain.
The idea behind it is to make it easier for everyone to see, imagine, plan and share journeys off road between all towns and cities with each route starting and finishing in populated places, the intention is to help people walk short, medium and much longer distances too.
It's been widely recognised that there are many benefits to be found from walking; improving health and wellbeing, helping tackle the climate and ecological emergencies, saving money, and improving the environment being just a few.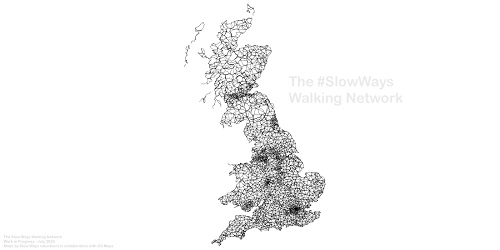 The slow ways logo was picked by judges who eventually settled on the snail design by Jessica Grainger from the West Midlands.

They said, '' We love the simplicity, character and motion of Jess's design. In the future we can imagine following the Slow Ways Snail on our journeys between places. It's adaptable, purposeful and clearly going places. While we'll usually use just one of the designs, we've got a flexible symbol we can play with.''
It was initially planned to officially launch Slow Ways at the end of January, but like most things, has had to be delayed due to the Covid restrictions.
Once it's finished, the Slow Ways network will be published online, with a searchable database freely available via Ordnance Survey. People will be able to choose segments between towns and cities or daisy-chain routes for long-distance journeys.
Later this year the team behind it will be calling for around 10,000 volunteers to help explore, test and provide feedback on the routes.
Sign up here.

Annemarie Flanagan
21 February 2021