Local MP and Council leader join demonstration against 'privatisation' of local NHS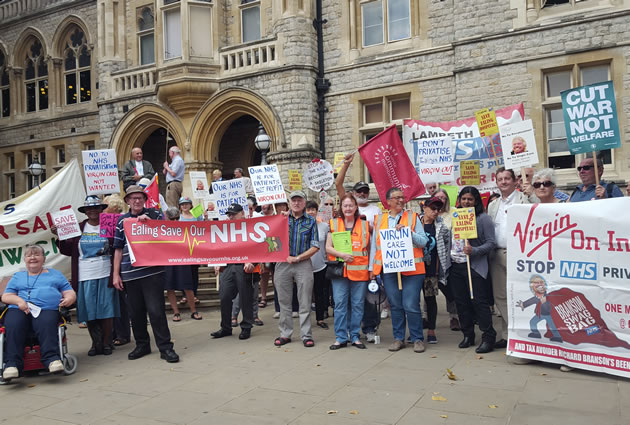 Save Our NHS protestors outside Ealing Town Hall
Ealing Central and Acton MP Rupa Huq and Council Leader Julian Bell joined a protest by the Ealing Save Our NHS group last Friday (17 August).
The demonstration had been timed to coincide with an information meeting by Virgin Care to which it had invited local voluntary groups to hear about its plans should it win a ten year contract to run out of hospital services in the borough.
The contract has been put out to tender by the Ealing Clinical Commissioning Group (CCG) and could bring in up to a billion pounds in revenue over its term. The successful bidder would be responsible for delivering services such as District Nurses, children's services and mental health services. These would remain free at the point of delivery even if Virgin Care won the contract.
Angry protesters outside the meeting held up banners saying 'Patients not Profits' and 'Don't Privatise Our NHS'.

Eve Turner, from Ealing Save Our NHS, which organised the demonstration said "The record of private companies trying to run NHS services has been terrible. At a time when Ealing Hospital is under threat, it would be disastrous to remove finances from the our local NHS Trust, which currently run many of these services. In fact, we are against the very idea of contracting out these services. Whoever wins the contract will be expected to magically replace hospital beds with care in the community and lay the basis for the closure of the proper A&E at Ealing."

She added, "Virgin claim they are not in it for the profit, which we find unbelievable – they basically want a mainly privatised health service with an American style insurance system in which they could make massive profits. Ealing CCG should withdraw the contract and the NHS should be given the support it needs instead of wasting millions of pounds paying Management Consultants to devise projects like this."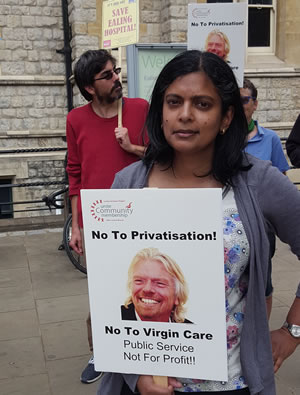 Rupa Huq at the demo
It is also claimed that if London North West Hospitals NHS Trust doesn't get the contract it will cause them further financial problems which will impact severely on Ealing Hospital.
We have asked the Ealing CCG for comment.
August 21, 2018