Striking work of art of Red- Crowned Cranes by local artist Helen Trevisiol Duff

(Helen Trevisiol Duff and mural at Hanwell Zoo photo: Liz Jenner)
A major new work of public art featuring two endangered Japanese red-crowned cranes is complete and now on display at Hanwell Zoo.

Local artist, Helen Trevisiol Duff who is passionate about nature and conservation, was commissioned by Artification and The Art Box at the Zoo ( with funding from the arts council) and completed the striking piece in just over a week.
She says: '' I devote a lot of time voluntarily to two conservation charities and was honoured to be included last year in an exhibition at the Oxo tower with @explorersagainstextinction. Being asked to paint this enormous mural in one of my favourite places ever is such a privilege. I've been going to the zoo for 26 years, since my gorgeous girl was tiny. I submitted my painting for approval, many discussions and deliberations and acceptance and a year later the work is complete.''
Kamer Chatawa, from The Art Box said, "The Art Box ethos is centred around promoting and celebrating the public appreciation of art and nature. In collaboration with Hanwell Zoo we have been creating our public art trail since 2016.The art depicts inhabitants found in and around the Zoo whilst also highlighting issues around conservation, the ecosystem and endangered species. We promote artists of all backgrounds and abilities, both newly emerging and world renowned artists feature their work and passion for nature and its majestic creatures.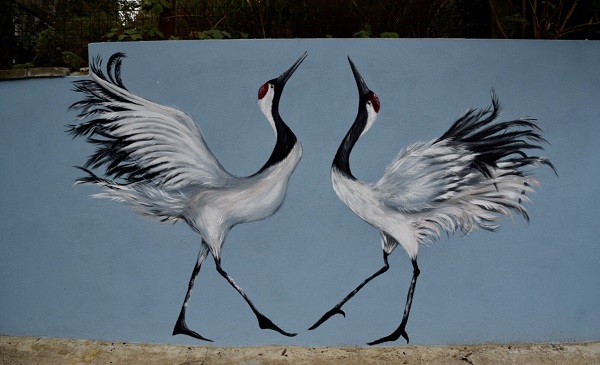 (photo: Liz Jenner)
''Helen's beautiful animal illustration workshops lead to our invitation for her to submit a proposal for consideration for the art trail. She was inspired by the Red Crowned Cranes and chose to depict this beautiful endangered species. After visiting the Zoo to create some observational drawings Helen finalised her plans, capturing the birds in the midst of a courtship dance. We're very happy to see the newest addition to the art trail.''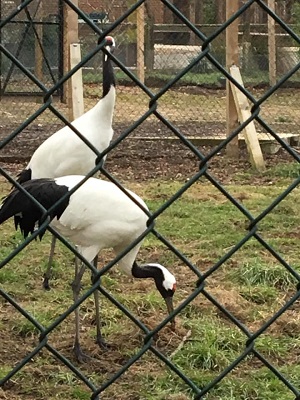 Red Cranes at Hanwell Zoo
Jim Gregory, spokesperson for the zoo added, '' The Red Crowned Crane mural is a fantastic illustration of what we do so well at Hanwell Zoo bringing local talent and conservation together. The red crowned cranes are by far and away my favourite animal at the zoo. Our pair arrived as chicks five years ago as part of an international breeding programme and they have flourished in their time here. The graceful nature of these amazing birds has been amazingly captured by Helen and her picture allows visitors to see up close what amazing animals these are. Helen's artwork sits alongside a number of other pieces , all these incredible artworks make Hanwell Zoo unique and I am hugely proud of the way we have led community based work in zoos in the UK.''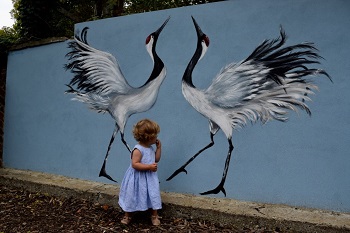 (photo: Liz Jenner)
Helen's original paintings of the Red Crowned cranes wil be on display at Gunnersbury Park museum as part of the Borough of Ealing Art Trail @Ealingbeat.org.uk in September.

Hanwell Zoo is open 10-5pm 7 days a week
(until Sept 11th 10-4pm and open every day except Christmas Day)
24 July 2019