Film predicts many of the scenarios seen during coronavirus pandemic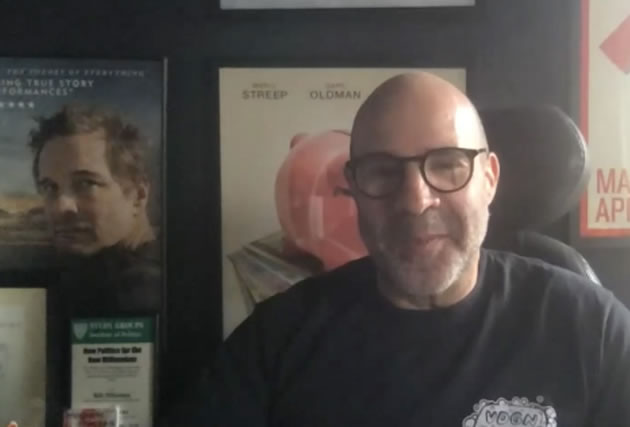 Scott Z Burns giving his masterclass
Scott Z. Burns, the writer of the Contagion the film released in 2011 has held a masterclass with students at Ealing's Metfilm school. The movie in many ways foreshadowed the Coronavirus pandemic and was based on extensive and rigorous scientific research. Scott virtually visited the school which also has a campus in Berlin and told students about the film, his career journey and finding his passion
Scott also produced An Inconvenient Truth and wrote The Mercy (with MetFilm Production) and The Bourne Ultimatum.
He relates how he just had to give the bare outlines of his script for a science based movie about a virulent disease to Steven Soderbergh, with whom he was working on another project at the time, for the director to be immediately keen on the idea. Through Jeff Skoll, a philanthropist had a major interest in global pandemic, he was introduced to some of the world's leading experts on the subject and this knowledge formed the basis of the film which was three years in the making.
He said, "Ahead of filming Contagion, I did a huge amount of research as any screenwriter would do when taking on a subject like this. Along the way I was fortunate enough to meet some incredible and prominent epidemiologists and virologists. I made a deal with them that I would not cut any corners on the science when filming this. There is a scene that didn't make it into the movie where Matt Damon is approached by an unknown wealthy person who wants to buy his plasma to make an antibody cocktail, we cut it out as it opens up a lot of questions; it's interesting as plasma based therapy is mentioned throughout reports regarding covid-19."


Trailer for contagion


Scott says that many films do get made that are formulaic and they are produced quickly but he prefers projects like Contagion which have a long gestation period.
He adds, "The only way I get through that is passion. If I am not passionate about it, I will never make it through the five years of disappointment, searching for finance etc. In some ways Contagion was the easiest thing to get made."
After graduating from university in the States he wasn't sure what his plan was other than he hoped to write fiction. He began working in advertising which he describes as being like his film school because he started working on television commercials bringing him into contact with people from the film industry. This allowed a progression into directing.
Scott is one of many virtual visitors to MetFilm school this summer, other visitors have included, Normal People's Paul Mescal and Daisy Edgar-Jones, Jonathan Pryce, (The Two Popes, Game of Thrones, The Wife, Tomorrow Never Dies, Evita), writer Sally Wainwright (Last Tango in Halifax, Gentleman Jack), cinematographer Roger Deakins (The Shawshank Redemption, Skyfall, Blade Runner 2049 and 1917), Colin Trevorrow who re-launched the Jurassic Park franchise, Gurinder Chadha (Bend it Like Beckham and Beecham House), and many more - with more to come.

July 15, 2020