78-year-old Jeanne Socrates is oldest person to sail round the world single-handed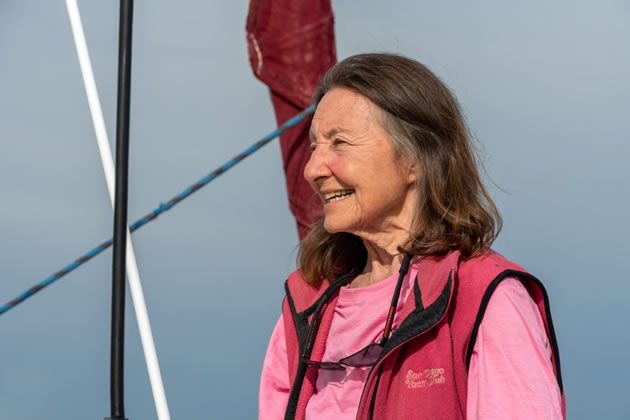 Jeanne Socrates arriving into Victoria Harbour on her boat Nereida. Picture: James Holkko
An Ealing yachtswoman, who became the oldest person to sail around the world single-handedly non-stop and unassisted has had her achievement recognised at an awards ceremony.
78-year-old grandmother Jeanne Socrates was the winner of the Amplifon Brave Britons Active Agers' title for 2020.
The former maths teacher received her award during a virtual ceremony hosted by BBC 1 TV Breakfast presenter Rachel Burden joining proceedings on Zoom while on a trip to Australia.
Jeanne set sail aboard her yacht Nereida on her incredible 25,000-mile journey from Victoria, Ontario, Canada, in October 2018, arriving back in September 2019. She beat the previous record holder, Minoru Saito, who was 71 when he completed a 233-day unbroken solo lap of the world in 2005. Her journey took 339 days.
She said, "Winning this award is fantastic. I am absolutely staggered and feel very humble.
"During my four round-the-world sailings I have made some amazing friends.
"I have had to stay in Australia a few months because of coronavirus but I now want to get back to my boat in Canada. After my record-breaking sail it needs a lot of repair work carrying out and then I can go sailing again."
Global-hearing specialist Amplifon's judges commented, "At a time of life when people of her tender years are expected to be taking it easy Jeanne went into turbo charge!
"She was chosen as the winner for her bravery and endeavour by sailing 25,000 miles around the world single-handedly, not only once, but three times.
"And on her last voyage she broke the world record for being the oldest person to achieve the challenge. And all of this was done after losing her beloved husband George who she had learned to sail with when they were in their 50s."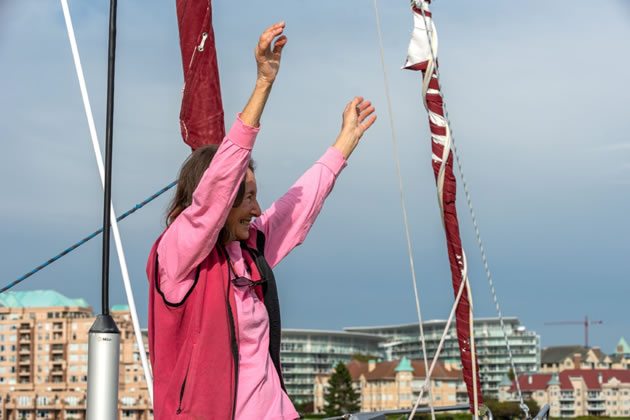 Jeanne Socrates celebrates the end of her epic journey. Picture: James Holkko
The Amplifon awards are in their fifth year and celebrate truly remarkable people and pets. They were set up in honour of Amplifon's founder, Second World War hero Major Charles Holland.
Major Holland was awarded both the MBE and the Military Cross and received the Bronze Star from the United States government in 1948 for his bravery behind enemy lines during the Second World War.
After the war he dedicated his life to providing better hearing for people affected by the conflict and in 1950 launched Amplifon which has become a global company specialising in providing the hearing solutions and devices.
October 14, 2020