Ealing Symphony Orchestra perform lockdown version of Elgar's march
Ealing Symphony Orchestra (ESO) have made a virtual recording of Elgar's Pomp & Circumstance March No.4, which features over 50 players.
The last few weeks should have seen the nearly 100-year old ESO preparing for a concert on Saturday 16 May. As with other music groups, the introduction of lockdown restrictions has suspended weekly rehearsals and the prospect of resuming activities seems a long way off. To keep the spirit of the orchestra alive in lockdown, players have continued to meet virtually each week, even attempting the occasional singalong despite the time lag challenges of video conferencing.
While the weekly sessions have proven great fun, they haven't come close to sparking the joy that comes from making music together, so ESO decided to produce its very own lockdown performance.
Fifty-one musicians, ranging in age from 18 to 80, contributed to a virtual performance of Elgar's Pomp & Circumstance March No. 4, with some recording more than one part, and in other cases playing more than one instrument.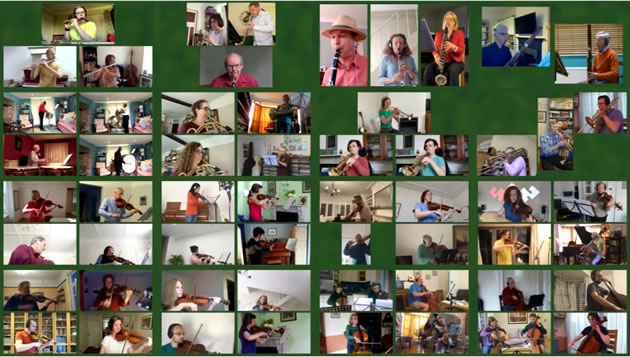 The piece was chosen by the orchestra for its uplifting melodies, reflecting the orchestra's excitement for the day they can play together again in the real world.
Using video conferencing technology to discuss some of the immediate challenges faced, such as cancellation of concerts, venues and soloists, the committee members quickly realised the emotional benefit of being virtually connected to the people they were accustomed to seeing each Thursday evening; and so the 'ESO Virtual' meeting was introduced.
The first gathering at the start of April saw nearly 50 members dialling in, and the event was such a success that it has continued every week since, with a consistent level of participation from across the full age range of the orchestra. The virtual gatherings have even seen some 'alumni' members dialling in from the Netherlands, Singapore, Florida and Brazil.
Each week is 'hosted' by a different volunteer who picks a theme and develops the content. So far this has included Pirates, The Sound of Music, The Wizard of Oz and Egypt - Ancient and Modern.
Having seen how other music ensembles had made clever use of technology to create a virtual performance, the orchestra decided to attempt its own ESO version. A couple of volunteers with the requisite technical skills stepped forward to coordinate the project, and an ambitious plan was hatched to create a lockdown performance.
They say it represents their own little triumph over adversity, and the orchestra hopes the piece lifts others' spirits as much to watch, as it did to make it!
As 79-year old viola player, Janet Robinson put it, "It was one of the most challenging things I have done since my year at Guildhall! The more angry with myself I got the better it became, although each time something different went wrong."
As soon as the recordings started coming in, volunteers Alan Garriock and Martin Jones got to work on synchronising the sound and videos, with the final version completed within a week and ready to be shown at that week's virtual meeting.
The reaction amongst orchestra members - whether or not they were able to participate - to the finished product has been one of sheer delight. As violin player Emily Gardner (who plays both 1st and 2nd violin parts in the recording) put it: "The finished result is magnificent! I'm prouder than ever of the ESO."
Viewing the video proved to be quite emotional for many members - with some even moved to (happy) tears - as it is a powerful reminder of all they are missing about playing together as an ensemble in the 'real' world.
ESO Chair, Jo Boswell, said: "This video is testimony to everything that is so wonderful about this amazing orchestra - our musicians have all risen to the challenge with gusto and verve, to create a little piece of ESO history - our very first lockdown performance. There is already talk of what our next recording should be, although I think we need to allow our sound engineers to recover from this first effort before attempting another one."
Sadly not all members have been able to participate - there are a number of key workers in the orchestra; but the reaction of those who have been able to join in has been heart-warming for the organiser, Jo Boswell who said, "I was overwhelmed by the comments I got from members after the first meeting, describing it as the highlight of their week. I thought the number joining might start to dwindle after the novelty wore off, but it hasn't. I think it highlights just how important this kind of social interaction is for our emotional well-being, and I'm delighted we've been able to facilitate that for our members."
The orchestra - which is two years away from celebrating its centenary - is one of the leading amateur orchestras in London. In normal times up to 60 members meet weekly to rehearse at Ealing Green Church, and the orchestra performs six concerts a year (in the Ealing community). Musical standards are high, matching the ambition of Musical Director, John Gibbons; and the orchestra is well known for its thriving social activities.

May 21, 2020