Ealing Schoolboy Wins National Writing Competition
---
11-year-old Theo Wild attends Elthorne Park High School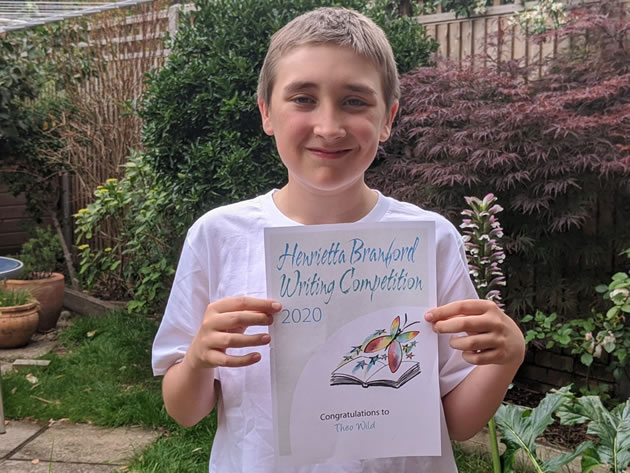 Theo Wild with his certificate
A young writer from Ealing, Theo Wild has won first prize in a national writing competition for young people, the 2020 Henrietta Branford Writing Competition.
11-year-old Theo is a pupil at Elthorne Park High School, Hanwell and he was awarded for his story 'Stitched Up'.

The Henrietta Branford Writing Competition is an annual competition for young people which runs in conjunction with the Branford Boase Award. The Branford Boase Award recognises a debut children's author and their editor and was set up in memory of the children's writer Henrietta Branford and the editor, Wendy Boase, Editorial Director of Walker Books. They both died of cancer in 1999.

The competition aims to find and encourage writers of the future, something Henrietta Branford was always keen to do. It is open to anyone under the age of 19 and entrants had to complete a story begun by last year's Branford Boase Award winner, author of I Am Thunder, Muhammad Khan.

Every year there are hundreds of entries from all over the country, often thanks to the encouragement of teachers and school librarians. Lockdown has clearly encouraged children's creativity and this year saw a record number of entries.

Prue Goodwin, lecturer in literacy and children's books, judged the entries and said, "Short stories are hard to write, however experienced you are. So much is about the getting of ideas and expressing them in ways that keep the reader wanting to read. Above all, we look for stories that show imagination, originality and a strong voice. Theo's story really stood out."

Muhammad Khan announced the names of the winners and praised Theo's story saying, "Theo's story uses my introductory paragraph very well, mirroring its tension to build to a shocking end in a school based tale with elements of mystery as well as dread. The final line is particularly scary, leaving readers with a terrifying, lingering image!"

Theo's winning story is available to read on the Branford Boase Award website.

July 1, 2020