Famous singer went to school in Northfields

(fan page http://dustyspringfield.nu/)
A plaque celebrating former Ealing resident, singer Dusty Springfield, is planned for the new Ealing Fields High School (EFHS) site.
Born in West Hampstead in North London in 1939, Mary Isobel Catherine Bernadette O'Brien,reportedly got her nickname Dusty from playing football with the boys on the street outside their home. In 1950 her family moved to Ealing where she attended all-girls St Anne's Convent School on Little Ealing Lane - soon to be the new location for EFHS.
Her solo career began in 1963 with the hit 'I only want to be with you' and she went on to have numerous other notable records including in 1987 'What Have I Done To Deserve This?'
with the Pet Shop Boys.
After falling ill in 1994 she was diagnosed with breast cancer and despite treatment and having been in remission, the cancer returned and she sadly died in 1999 age 59.
Ealing Civic Society are proposing a plaque to celebrate Dusty Springfield's Ealing roots and school attendance, which would be located on the front wall to the left of the main entrance of the new school.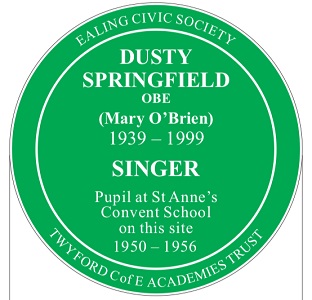 Councillor David Millican, representing the local Northfields Ward said:

" What a great way to honour Dusty Springfield with a plaque to celebrate her attendance at what was then St Anne's Convent School, and is now being renovated to become Ealing Fields High School. She was a huge star when I was growing up and now her name will live on at the school she attended.
''I have contacted lots of local people and all think its a great idea, while several have come back with some great stories. One immediate neighbour to the site who attended the school, when Dusty Springfield visited on 6 June 1964. She said it was probably, at the time, the most exciting day of her life! She was eight at the time."
The plaque would read "DUSTY SPRINGFIELD OBE (Mary O'Brien) 1939-1999 SINGER. Pupil at St Anne's Convent School on this site 1950 – 1956" "Ealing Civic Society - Twyford CofE Academies Trust"
It is currently out for consultation as planning permission is needed:
See here ref 201530LBC
May 6 2020