Inventive and positive approaches to dealing with the current lockdown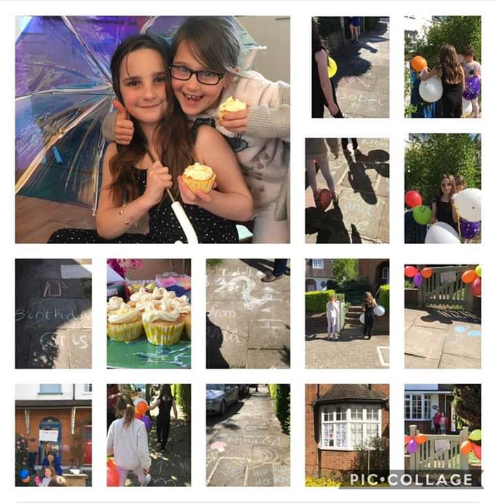 Although most youngsters might be enjoying their extended school holidays undoubtedly they are missing out on many of the normal routines, seeing family and friends etc.
Neighbours throughout Ealing are trying to help ease the situation and various roads have been connected via social media apps and neighbours who have never spoken before are now sharing information, jokes, and swapping food and other goods.
Hayley Spurling wants to thank the neighbours living on Winscombe Crescent and others from Brentham Way, Ainsdale Road, Fowler's Wak, Eaton Rise, Helena Road, Mount Avenue and Woodfield Crescent.
They all helped cheer up her daughters Isobel and Zoe who have been celebrating their 10th and 8th birthdays this month.
She says they have had lockdown parties and was delighted by the response of locals:
''To make them feel connected, special and give them joy - on Tuesday neighbours and local school friends put out balloons, made signs, drew in chalk on pavements, left out gifts (or in one case lowed a gift from a make shift rope of dog leads and ribbons from a top floor flat) and waved from windows or doorsteps as we did our once-a-day exercise of a local walk. Some readers may have seen two little girls with a massive bunch of balloons walking the streets. We were all overwhelmed."

If you have any 'feelgood' stories from your neighbourhood please share
email editor@ealingtoday.co.uk
23 April 2020