Now broadcasting live as opposed to using archive material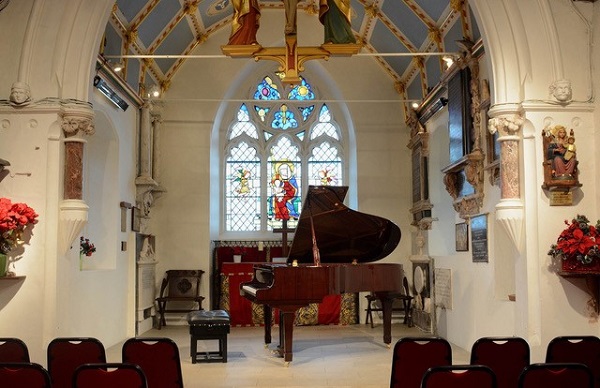 A new programme of regular live concerts now being broadcast from St Mary's Perivale. In April and May they transmitted concerts recorded previously but now, with only one person at either end of the church, plus the musician(s), they can live stream to the world.
They say important step towards resuming 'normal' concerts later in the year. There are usually two recitals per week, on Tuesday and Thursday afternoons at 4 pm. They can be viewed on their web site live and remain available for viewing over the following few weeks.
Forthcoming concerts
Thursday 2 July - Ben Tarlton (cello) Rosie Richardson (piano) Dvorak: Rondo in G minor Op 94, Brahms: Cello sonata no 1 in E minor Op 38, Rachmaninov: Lied
Tuesday 7 July - Bocheng Wang (piano) Haydn: Sonata in C minor Hob XVI:20, Chopin: Andante Spianato et Grande Polonaise Brillante Op.22, Rachmaninov: Sonata no 2 in B Flat minor Op 36
Thursday 9 July - Ariana Kashefi (cello) Petr Limonov (piano) Beethoven: Cello sonata in G minor Op 5 no 2, Prokofiev: Cello sonata, Schubert: Nacht und Träume more details
Tuesday 14 July - Rokas Valuntonis (piano) Chopin : Ballade no 3 in A flat Op 47, Grieg : 5 Lyric Pieces, CPE Bach: 12 Variations on Spanish Folia theme, Scarlatti : 3 Sonatas: K487, K8, K7, Chopin Nocturnes op. 15 nos 1 and 2, Liszt : Waltz from Gounod's "Faust"
Thursday 16 July - Jane Gordon (violin) Jan Rautio (piano) Mozart: Violin sonata in B flat K454, Fauré : Violin sonata in A Op 13 , Fauré : Berceuse Op 16
Tuesday 21 July - Petr Limonov (piano) Beethoven: Piano sonata in C Op 53 'Waldstein', Mussorgsky: Pictures at an Exhibition
St Mary's is a 12th century church, now used solely as a classical music centre and managed by a group of 'Friends'. They have gained an international reputation for putting on concerts with exceptional musicians. Before coronavirus struck, they were already live streaming concerts thanks to a highly-qualified team of retired engineers.
They streamed a total of 53 previously recorded concerts on successive days from 6 April to 28 May. An archive of these concerts is available via their website. They attracted over 200 viewers per concert and a survey showed that they were hugely appreciated at a stressful and lonely time. The musicians were delighted to have their concerts streamed and they were paid a total of £6,500 from donations sent by viewers.
They re-started live concerts in the empty church on Tuesday 2 June and have a total of 17 concerts planned until Tuesday 21 July. They are either solo or duo recitals to maintain social distancing. This is one of the few series of genuinely live concerts available at the moment.
Over the last few years they have developed a broadcast-quality recording system, with six high-definition cameras, installed and run by a local team of expert retired BBC engineers. Well before lockdown they had been live-streaming all their concerts. They have also uploaded around 500 highlights from previous concerts on two YouTube channels, St Mary's Perivale and St Mary's Perivale 2. These have been viewed in 45 countries.
Retired consultant physician Hugh Mather, Chairman of the Friends of St. Mary's Perivale, said, "Nothing lifts the spirits more than music played by expert and talented musicians. Rarely have we needed it so much. These are very difficult times for everyone, but especially freelance musicians. By carrying on with our concerts at minimum risk, we can help everyone. The response so far has been amazing and we have a full programme planned until Christmas."
Since 2005 they have held over 950 concerts, with performances by 360 pianists and 160 violinists. Until lockdown they were staging 120 concerts a year and have built up a considerable reputation as a small concert venue.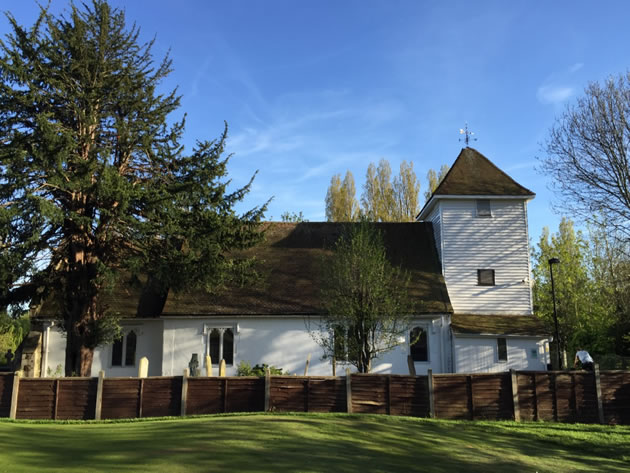 Many of today's best musicians have performed here and they have always paid musicians, as a matter of principle. While entry is free, they ask for voluntary donations at the end of concerts. St Mary's size – the maximum capacity is only 80 people – exceptional beauty, outstanding acoustics and excellent piano provide the perfect setting for high-quality chamber music and piano recitals. You can see photographs of the church and details of all concerts on their web site.
The Friends say there is little chance of returning to 'normal' with audiences in the Church before the end of the year, and possibly not for another 12 months. Regardless, they are planning to continue with the live Tuesday and Thursday afternoon concerts from Tuesday 1 September, plus some Sunday afternoons as well, with 30 concerts now scheduled between September and December. As always, musicians will be paid, despite the empty church.
They have one very special event – a Beethoven Piano Sonata Festival to commemorate the composer's 250th anniversary. This will take place from 2pm to 10pm on 3 and 4 October with 32 pianists playing all the sonatas in order over a weekend.

July 2, 2020