Club wants to return to its roots and is in discussions with Ealing Council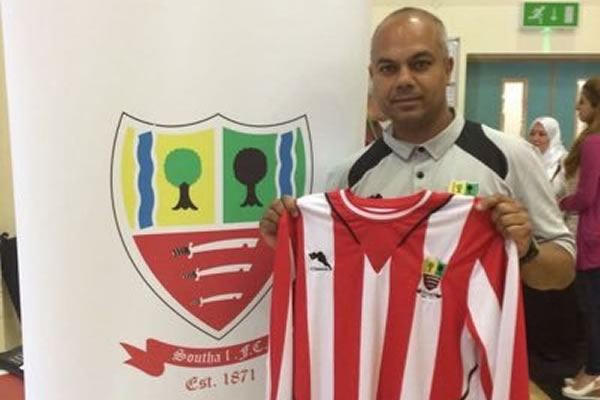 Sanjeev Sharma, Southall Football Club Chair. Picture: Twitter
Southall FC will celebrate its 150th anniversary next year and wants this to be marked with progress on returning to play in the area.
The Club has a distinguished history including playing at Wembley Stadium and unearthing several future England international footballers such as Les Ferdinand (QPR, Spurs, Newcastle), Gordon Hill (Manchester United) and Alan Devonshire (West Ham United).
After having to move from the Western Road Stadium Southall Club grounds in 1992 the club has had to enter into ground sharing arrangements with other clubs. They currently play their home games at Robert Parker Stadium, Stanwell, sharing with Ashford Town.
Now it has ambitious plans to return to Southall and says that it is in discussions with Ealing Council and private landowners about building a brand new stadium. They have a first phase funding target of £125,000.
The club is proposing a community biased Health and Well Being centre to be incorporated into the new stadium as a hub for sports projects, school use and educational programmes. The new community stadium would offer local residents training and fitness equipment, health checks, along with sports injury prevention advice, martial arts and boxing coaching sessions. Across the community classes are proposed to suit the elderly, disabled, youth, community based, plus female only classes.
The semi-professional team's hopes of promotion this season from the Combined Counties League Premier Division have been dashed by the coronavirus leading to a cancellation of fixtures. They were in the top five with a game in hand. Their ambition for next season is to make the step up to the Step 4 level of English football by securing promotion.
Sanjeev Sharma, Southall Football Club Chair says, "Football for all ages is our main focus, especially encouraging the 16-18 year olds to do well in their BTEC National courses by working in partnership with a local education provider in offering football and other sports,"
Virendra Sharma, MP for Ealing Southall says, "Southall FC is a key part of the history of Southall and is a treasure locally. Over the last 150 years Southall FC has inspired generations of young boys to play football and started some stellar careers. Now they welcome girls too and play a role for everyone, supporting community sport, helping kids get healthy and stay out of trouble. I want to see Southall FC have another 150 years of great history, connected to our community, rooted in the spirit of our society and firmly placed in the centre of Southall providing high quality coaching, a successful league team and paying back into our community."
If you'd like to support the first phase of the club's fundraising campaign click here.
July 22, 2020