Non-local vehicles to be discouraged by range of measures including restricted access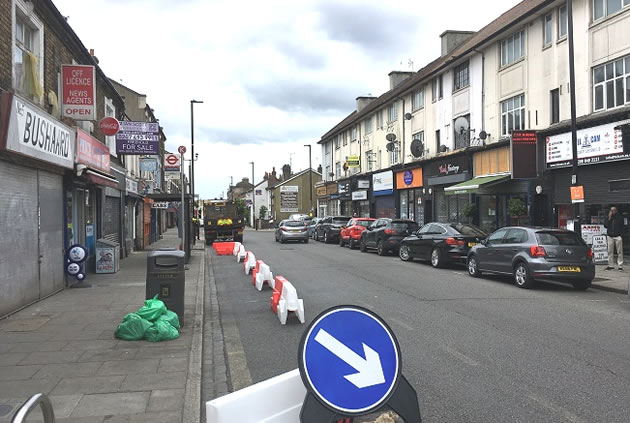 Nine new Low Traffic Neighbourhood (LTN) schemes are to be introduced across Ealing.
Ealing Council has secured funding from Transport for London (TfL) to install a range of measures including bollards closing off access speed humps, double yellow lines, greening of streets, additional seating, cycle parking, 20mph speed limits and signage.
Roads were LTN measures will be introduced are Loveday Road (W13), West Ealing Centre north and south, Mattock Lane (W5 and W13), Junction Road (W5), Olive Road (W5), Adrienne Avenue (UB1), East Acton Golf Links and Bowes Road (W3).
The aim of an LTN is to discourage non-local traffic from nearby main roads cutting through a residential area. It is hoped that this will reduce air pollution, lower collision rates, increase community activity, encourage people to switch to greener forms of transport and make streets more pleasant.
Julian Bell, leader of Ealing Council said: ""We are introducing 9 LTNs across the borough to reduce traffic using quieter residential streets as rat-runs and to help support local people to increasingly make the switch to walking and cycling.
"Getting out of your car is also really good for your personal health and better for all of us as it helps to reduce air pollution and traffic congestion. During lockdown, traffic has reduced, and we've seen a significant reduction in harmful pollutants recorded in Ealing.
"We are facing a climate emergency and air quality is a huge health concern. It's vital that we continue to invest in measures that make it safer, easier and more enjoyable to walk and cycle in Ealing instead of jumping in the car."
Funding has also been given by TfL for the council's ongoing measures to mark and widen footways and install barriers in busier spots to widen pavements for social distancing and dedicate more road space to cyclists.
Work has taken place in multiple locations in recent weeks, including at Himalaya Palace Shopping Centre and King Street in Southall, the Hanwell post office on the Uxbridge Road, Boston Road in Hanwell, Ealing Road in Northolt, and around Ealing Broadway.
There was also money given for school streets programmes with footway markings now in place outside entrances and exits of 40 schools to help guide children and parents on where to stand to socially distance. A further 20 schools will also have footway markings installed in the coming weeks.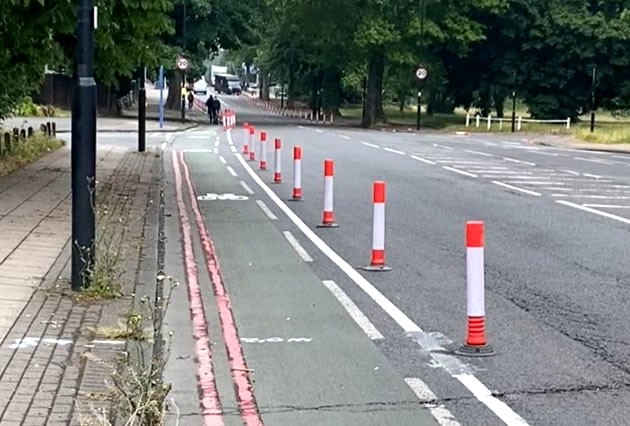 Temporary cycle lane by Ealing Common. Picture: Twitter
New segregated cycle lanes are also being introduced across the borough, designed to run alongside the main lanes for general traffic. They are separated by cycle wands, plastic posts which help to clearly define the boundary to all road users. The lanes have also been widened in places. These are believed not to have been provided with funding by TfL.
The latest measures have also seen the installation of a protected cycle lane on the Uxbridge Road, between the North Circular and Ealing Common station, complete with reflective posts.
The amount of money received by Ealing from TfL was relatively low when compared to other boroughs but they say they hope to get a greater proportion of subsequent rounds of funding.

July 1, 2020